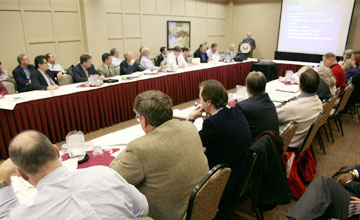 The Future is Now—Interactive Exhibits
Come join us on our transformation journey—the Future Is Now! Learn about the Futures Assessment, the NRC Futures Jam, and where the NRC is today on our transformation journey. Attendees will be broken into small groups, and a guide will walk through four futures scenarios and answer questions. In addition to guided sessions, the exhibit will be open for anyone to attend throughout RIC 2020.
Interactive Exhibits are scheduled on the days and times below and run concurrently only with the times noted below.
| | |
| --- | --- |
| Tuesday, March 10, 2020 | IE #1 1:30 p.m. |
| Wednesday, March 11, 2020 | IE #2 10:30 a.m. |
| | IE #3 1:30 p.m. |
| | IE #4 3:30 p.m. |
| Thursday, March 12, 2020 | IE #5 8:30 a.m. |
| | IE #6 10:30 a.m. |
Page Last Reviewed/Updated Friday, January 10, 2020